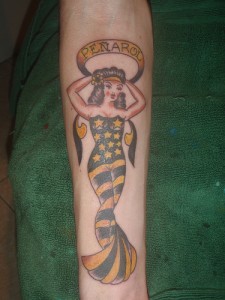 It's set to be a great futbol (soccer) match tonight.
I think Penarol will win. My buddy Fede is a huge Penarol fan (his Penarol tattoo to the right).
I've went to a couple of Penarol matches and they are very exciting to watch… Don't get me wrong, the team is cool to watch… but the fans are entertaining.
The energy at the stadium is electric.
There is expected to be 60,000 fans (both Penarol and Nacional) attending the match tonight… and I'm pretty sure that's what everyone will be watching on T.V.
It's pretty cool at how animated Uruguayans get about their futbol.
From my experience it's not uncommon when people meet at a bar for them to ask who their futbol team is…
If they are opposing teams, they tend to raz each other… If they're the same, it's almost like "instant friends."
I grew up around football my whole life and I've been to a lot of pro football games… I know some serious football fans. But in my time I've never seen fans as crazy or as wild as Penarol fans…
Regardless if you love futbol or not, the futbol fans here in Uruguay are pretty cool in my book.
Are you for Nacional, Penarol or another team?