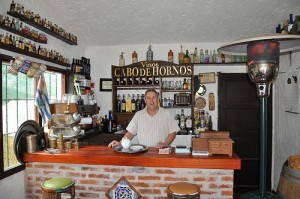 There are a lot of different views on the customer service a person receives in Uruguay.
We've received bad customer service here in Uruguay just like the in the United States, but for the most part it's pretty decent.
From a business point of view, I feel there is a lot of over-employment… too many people working at one establishment at the same time. In a deli in Uruguay you could see 7 people working at one time. In the same type of deli in a high traffic area of San Diego you'd see no more than 2 people working at one time.
Because there are more people, doesn't make service faster. It can be drug out… but for the most part, the actual services we have received have been good. One positive note of over-employment is that the unemployment rate is lower than it would be otherwise.
Restaurants
Waiters here are typically very friendly… I found that here, as in the U.S., if I strike up a little conversation, it goes a long way.
Since Kaylee was born back on Valentine's Day we have been getting our food para llevar ("to go" pronounced "para shevar").
While I'm waiting for my food the staff typically likes to talk to me, look at my tattoos and ask questions about California 🙂 Of course, they like to practice their English too.
When we do go out to eat with the girls, we've noticed that the waiters are very attentive to kids. They like to talk to them and play with them.
One difference I see between waiters in the U.S. and waiters in Uruguay is waiters here don't tend to stop by their tables as much as in the U.S.
I worked in the hospitality industry for years… bartending, bouncing, waiting tables, cooking… you name it, I did it. I've waited on more tables than I can count. I was always taught to check on your tables every 5-10 minutes and that's what I was accustomed to in the U.S.
In Uruguay, your waiters are paying attention to your table… but they do it from a distance. When you want something, you look at them and motion them over. It's not a bad thing, just a little difference.
The dining experience is different too. It's much more relaxed and drawn out. In the U.S. everything is go-go-go… In and out of a restaurant within an hour. When we first got here I thought food service was slow… It's not uncommon to take 2+ hours for lunch or dinner here. At the end of a meal, it's almost expected that you order coffee or tea and have a postre (dessert).
It took a minute to get accustomed to, but now I think it's a much more enjoyable way to eat. And I'm glad the waiter doesn't stop by every 5-10 minutes.
Another thing I find different is when they bring your check and you want to pay with a card… If you intend on tipping the waiter on the card you need to let them know immediately, because there is typically no place on the check to add a tip after they run it.
The way to say that is "con propina por favor." The waiter will typically ask "10%?" The average tip is 10%. Sometimes more or less, but 10% is a good rule of thumb.
Government Offices
We've had a couple of problems… But it hasn't been with the people or service they were giving us, but the processes and procedures that are set up to get things done in this country. There is a lot of red tape.
The customer service through Antel is good, the people there are nice… they just had some internal issues that made it take a little over 3 weeks for us to get our Internet turned on.
Dealing with immigration has always been easy for us. We just make sure our ducks are in a row when we go and they are nice and efficient.
Stores,  Local Shops & Ferias
Once you're established as a regular customer, people will bend over backwards to help with whatever you need.
I have 3 guys I see at the feria… The fat guy, the skinny guy and the egg guy.
The fat guy has jalapeno, serrano, chilli and tabasco peppers for me and I get my cilantro through him too… Every once in a while he'll have something exotic and I'll pick it up from him too.
I get the majority of my produce from the skinny guy. He makes sure I get the best produce he has. If he doesn't have something, he'll go to another vendor and get it for me. He also always makes sure that all of my stuff gets delivered.
The egg guy is who I get my eggs and cheese from… We eat a lot of eggs and I always buy from him… His prices have went up over the past year with everything else… but my price isn't quite as high as the price everyone else receives.
At grocery stores and shops… the people serving you are just people working… If I give a smile, I usually get one back…
I think the service one gets in Uruguay is as good as the relationship they establish with the person they are getting service from… Which is pretty much the way it is everywhere else.